Trautmann Middle School Library
Shorthorn Readers are Future Leaders!
We are happy to welcome everyone back for an exciting 2020-2021 school year. Come into the library to read, learn, research and enrich your day!
When you enter this Library…
You Are Readers
You Are Explorers
You Are Important
You Are Valued
You Are Respected
You Are a Friend
You Are The Reason We Are Here!
Remember to log into MackinVia for eBooks , Audiobooks and Digital Resources!
Read For Life
September
October
November
December
Library Staff
Librarian: Lillian Garcia
Library Aide: Mary R. Garza
Library Hours
Monday-Friday
7:30 AM - 4:00 PM
Open during all three lunch periods
Book of the Month!
Beyond the Bright Sea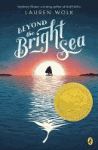 By Lauren Wolk
Crow has lived her entire life on a tiny piece of the starkly beautiful Elizabeth Islands off the coast of Massachusetts. Her only companions are Osh, the man who rescued her from a tiny skiff as an infant and raised her, and Miss Maggie, their neighbor across the sandbar. But it isn't until the night when a mysterious fire appears across the water that an unspoken question of her own history forms in her heart and an unstoppable chain of events is triggered. Using her bravery and perseverance, Crow must follow clues that not only lead to a personal treasure, but to uncovering her lost identity and, ultimately, understanding what it means to be a family. (Summary from Follett Destiny)